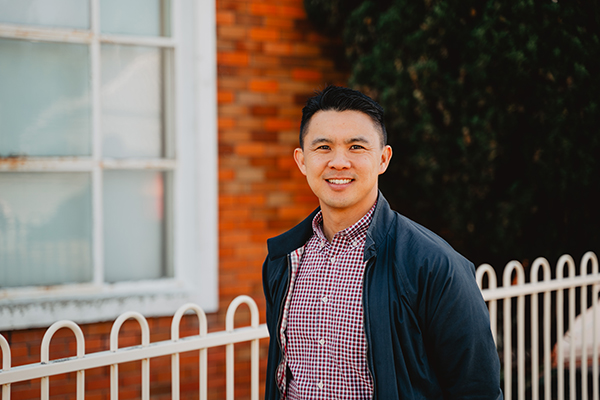 ---
Benjamin Ho
---
I was born in Singapore and migrated to Brisbane with my family when I was 12. It was my years as a teenager in youth group at CCCB which taught me about the Word of God and the gospel of Jesus Christ. However it wasn't until after high school, after some 'wandering years' in the Singapore army and my first year of university, that I really recognised and admitted to my utter sinfulness and absolute need for God's love, grace and forgiveness. Praise be to God for opening my eyes! It was then that I clearly saw that Jesus had to be my Saviour and Jesus was the King I had to live for.
I'm married to Faith who is a wonderful wife, soul-mate, partner in the gospel and mother. We have four daughters we love very much – Anastasia, Maia, Abigail (who died at 4 days of age and went to be with the Lord ahead of us) and Zoe.
Prior to becoming a pastor, I studied and worked as a physiotherapist in a hospital. It was a great job which gave me much time to serve at church, especially as a youth group leader. However, God had placed in my a heart a conviction to preach the gospel, 'make disciples' and pastor his flock in a much greater capacity than I had been doing as a youth leader at church. So I packed my bags, said my goodbyes and went to be trained as a ministry apprentice at the Fellowship of Overseas Christian University Students Church in the University of NSW. After the 2-year apprenticeship, I went to Moore Theological College and completed the Bachelor of Divinity course.
I returned to CCCB St Lucia to pastor the English congregation at the beginning of 2009. Our family was warmly welcomed into the SLE Church family and it has been a joy and privilege to be serving here as a pastor. My migrant background, training in an international student church, and growing up in Brisbane has really been God's provision in helping me pastor the flock at SLE. We pray that God would be pleased to keep working in and through us to serve His church here.