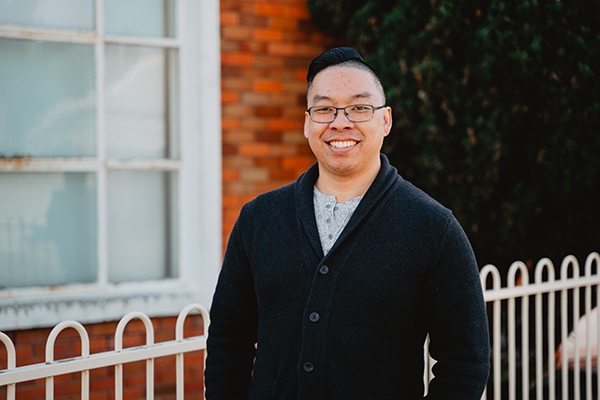 ---
Steven Tran
---
My story in short: I was a Buddhist who discovered that Jesus made so much more sense of this life.
The longer version:
I grew up in a fairly typical migrant family. My parents were refugees escaping the Vietnam War and fled to Australia by boat. I grew up in Adelaide with one younger brother and our family relocated to Brisbane in 1992.
Towards the end of high school I began to delve into spiritual matters more closely. It was my university days which opened my eyes to Christianity. I visited a good friend to borrow textbooks and he also came out with a Bible. This led to a lengthy discussion on Buddhism vs Christianity which made me realise that there might be something to Jesus I didn't know before. A visit to his youth group – CCCB's YF – helped dispel notions that Christians were weird (!) and encouraged me to know more. My friend took me through Christianity Explained while I read 'A Case For Christ' (Lee Strobel) which helped convince me that not only was Jesus real but his life and message made so much more sense of this life and world than Buddha's explanation.
In 2003 a visiting youth speaker challenged me to consider full-time paid pastoral ministry. No lightning, no voice from heaven, just a simple encouragement to use my gifts in a greater capacity because of the great needs. In 2006 I married my beautiful wife Steph, then in 2007 we both finished our respective jobs and started a full-time ministry apprenticeship under the guidance of Pastor Steve Nation. In 2009 we both started studies at Queensland Theological College, and in 2012 started pastoral ministry with my home church, SLE Church.
In March of 2012 we welcomed our firstborn son into the world: Jayden Timothy Tran. He's been a bundle of joy as we're watching him grow, and we think he looks more like Steph than me. We also welcomed our baby girl, Janessa Dawn Tran in late October 2013. Then in June 2016 we welcomed number 3, Eliza Piper Tran and are falling in love with parenting all over again.
On a personal note, I love coffee and photography. So if you're keen on either (or both) and would like to catch up over one (or both!!) feel free to let me know!