---
For children age 2 years old to prep
School Term Sundays, 9:00AM
We seek to teach the Bible faithfully and clearly to the children to help them learn God's Word and come to know Jesus.
New to Junior Kids Church? We'd love you to join us!
What to expect each Sunday morning
Welcome! Sign in, put your bags away and pick an activity to get stuck into.
Singing together to worship God. Our songs have age-appropriate instrumentation and engaging actions.
Each term there is a bible verse we go through and say together to help the kids memorise it.
A fun activity to introduce/reinforce the bible lesson and to get the kids moving!
Age-appropriate lesson taken from the curriculum used for the term. We aim to bring each lesson back to the gospel to show how all is fulfilled in Jesus.
Praying together in response to the Bible lesson taught.
A fun craft to reinforce the bible lesson.
Sitting together to enjoy morning tea.
On Sunday, arrive between 8:50am - 9:00am to give you and your child sufficient time to settle in for the program. Come in through the Armadale Street entrance and make a little pit stop by the registration booth before entering the classroom.
Once you've checked your child in at the booth and stuck the name tag on, your child is ready for kids church! Wave hi to our friendly teaching team as you enter the class and make sure you put away your child's belongings in a cubby hole. Then, help your child pick a settle in activity to do before saying bye and heading upstairs for service.
After service, please head down to Junior Kids Church promptly at 10:20am to collect your child via the Armadale Street entrance. Your prompt pick up will ensure that the teaching team gets a chance to debrief, pray, and clean up before heading up for second service.
Before collecting your child, make a little pit stop at the registration booth again to check him/her out on the system. Next, head into the classroom to pick up all their belongings from the cubby hole - especially the various art and craft pieces. The craft activities have been thoughtfully created to invite opportunities for you and your child to chat about the main point in the bible passage for the lesson that week.
We also encourage you to speak with our teachers during this time to find out more about what happened during the lesson as well as to share any thanksgiving or prayer points. We will love to be praying alongside your family.
Morning tea (please keep it nut free to protect other children)

Water bottle 

Pencil case, including: glue, scissors, crayons/markers

Hat 
Please label all items belonging to your child.
Here at Kids Church, we believe that teaching the gospel faithfully to children begins at home. We see it both a joy and a privilege to be gospel partners alongside our parents as we teach God's word . As part of this gospel partnership, we invite parents to stay and be involved in our weekly lessons on a rotational basis. This allows parents to get a glimpse of what kids church life is every Sunday as well as for them to be an integral part of our service team.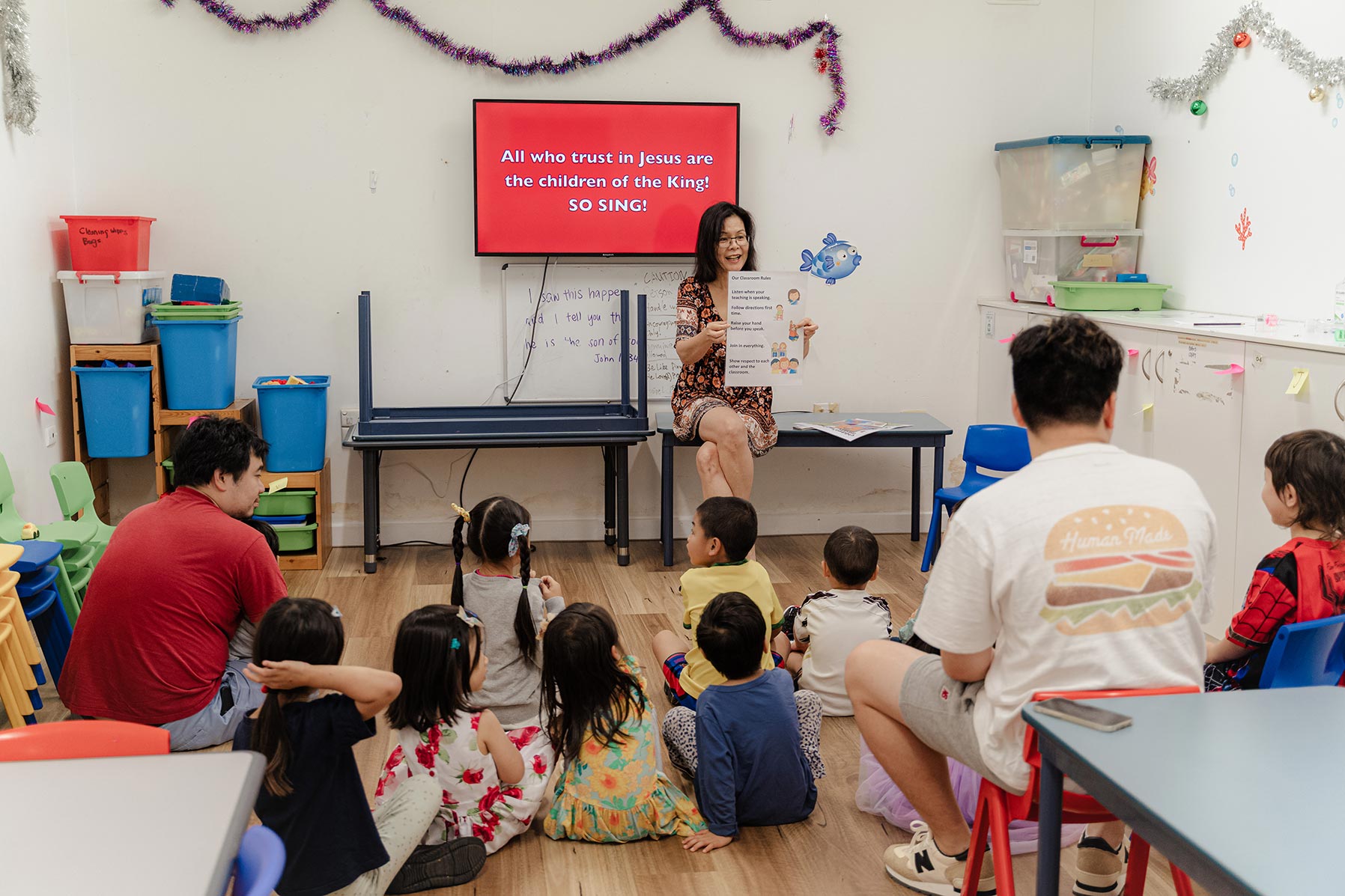 Your child's safety is our priority.
All our Kids Church teachers have Blue Cards. And our Kids Church Leaders have undergone Safe Ministry with Children training.
More questions? We've got you covered.